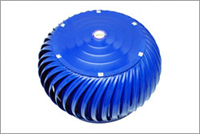 AirExit E-Epoxy Series, with an all aluminium structure coated with epoxy powder coat prevents the exhaust form the acidic fumes and wastes. This special epoxy coat has been given for improved life. This can be used in factories like dying, bleaching units.
AirExit's main applications are industries like

Textile Mills, Foundries, Chemical Factories, Engineering Industries, Steel Factories, Sugar Mills, Food & Sea Food Processing Industries, Distilleries & Breweries, Godowns, Auditoriums, Warehouses, Hospitals and for Domestic purposes.